Presenting on Branded Residences at the Filipovic conference, Zagreb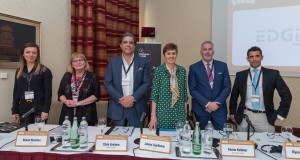 Chris Graham joined a distinguished panel of speakers at the well attended Filipovic conference, held at the Esplanade Hotel in Zagreb.  Discussing "Residential Development and Branded Residential Trends in the Adriatic" were (from L to R) Una Baric (Artelior), Muriel Muirden (EVP & MD Strategy at WATG), Chris Graham (MD Graham Associates), Jelena Cvjetkovic (Savills International Residential), Kieran Kelleher (Dream Estates Montenegro & Croatia/Savills Associate) and moderator Riyan Itani (Head of International Development Consultancy at Savills).
Clearly there is considerable interest in the subject as the hall was fully seated, with standing room only at the back!